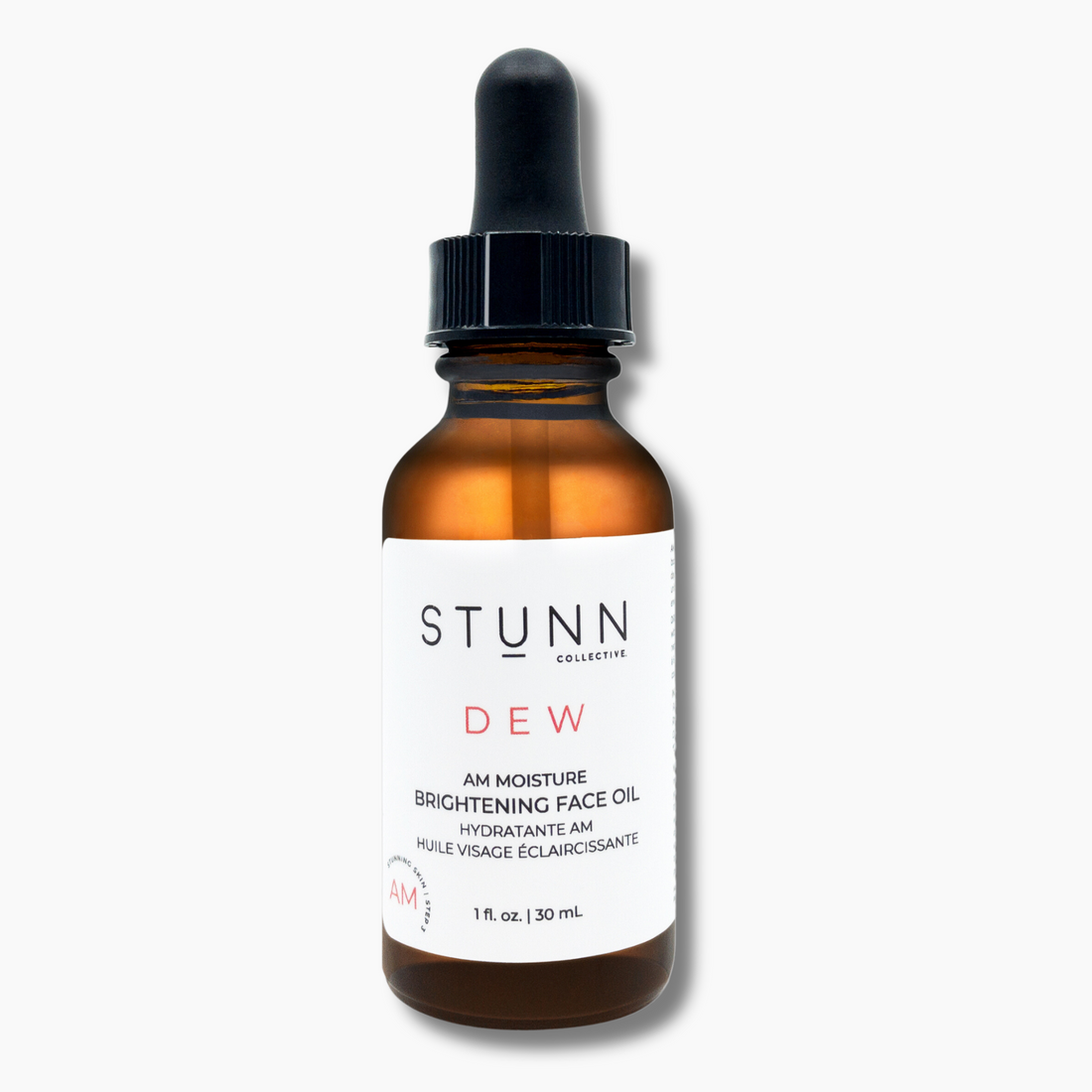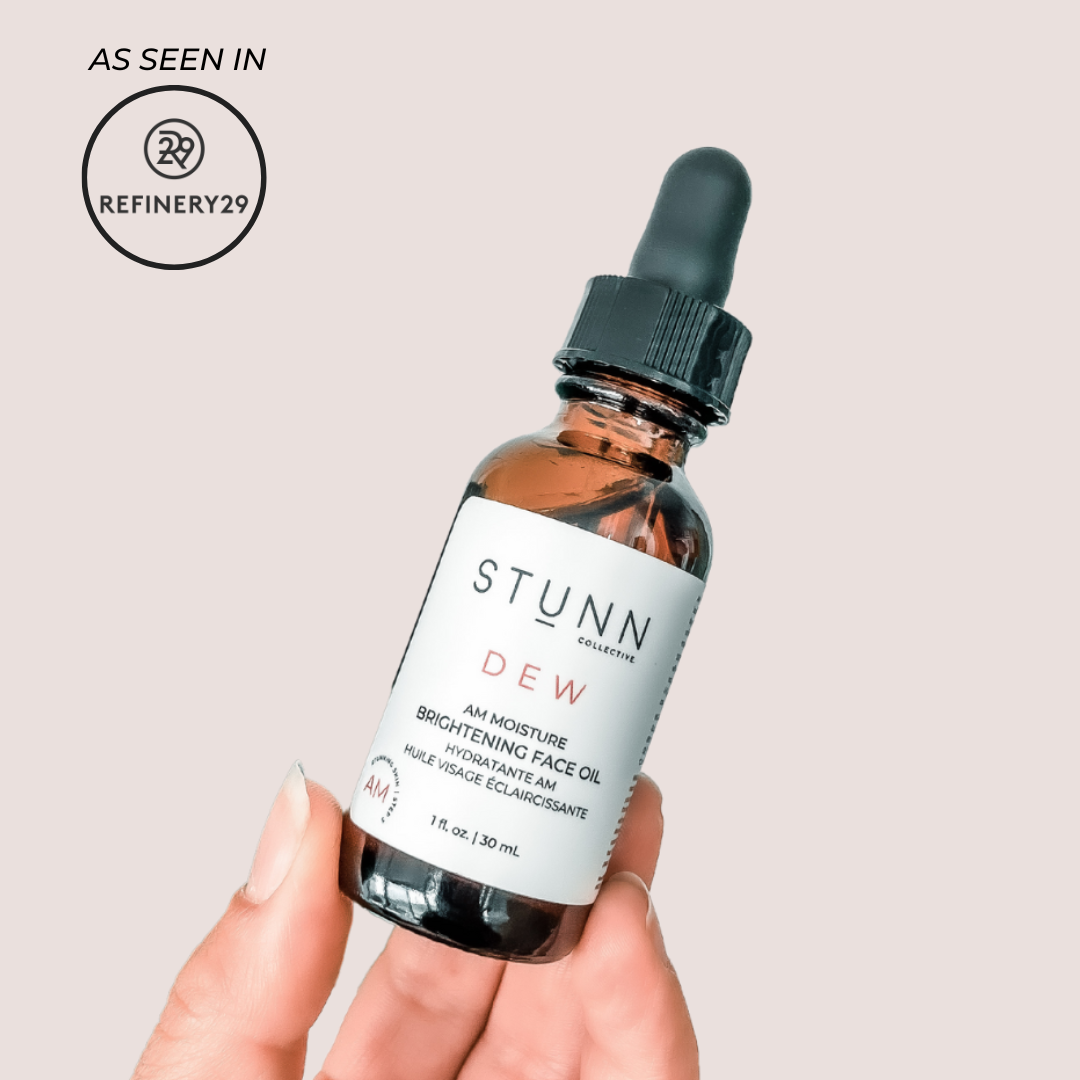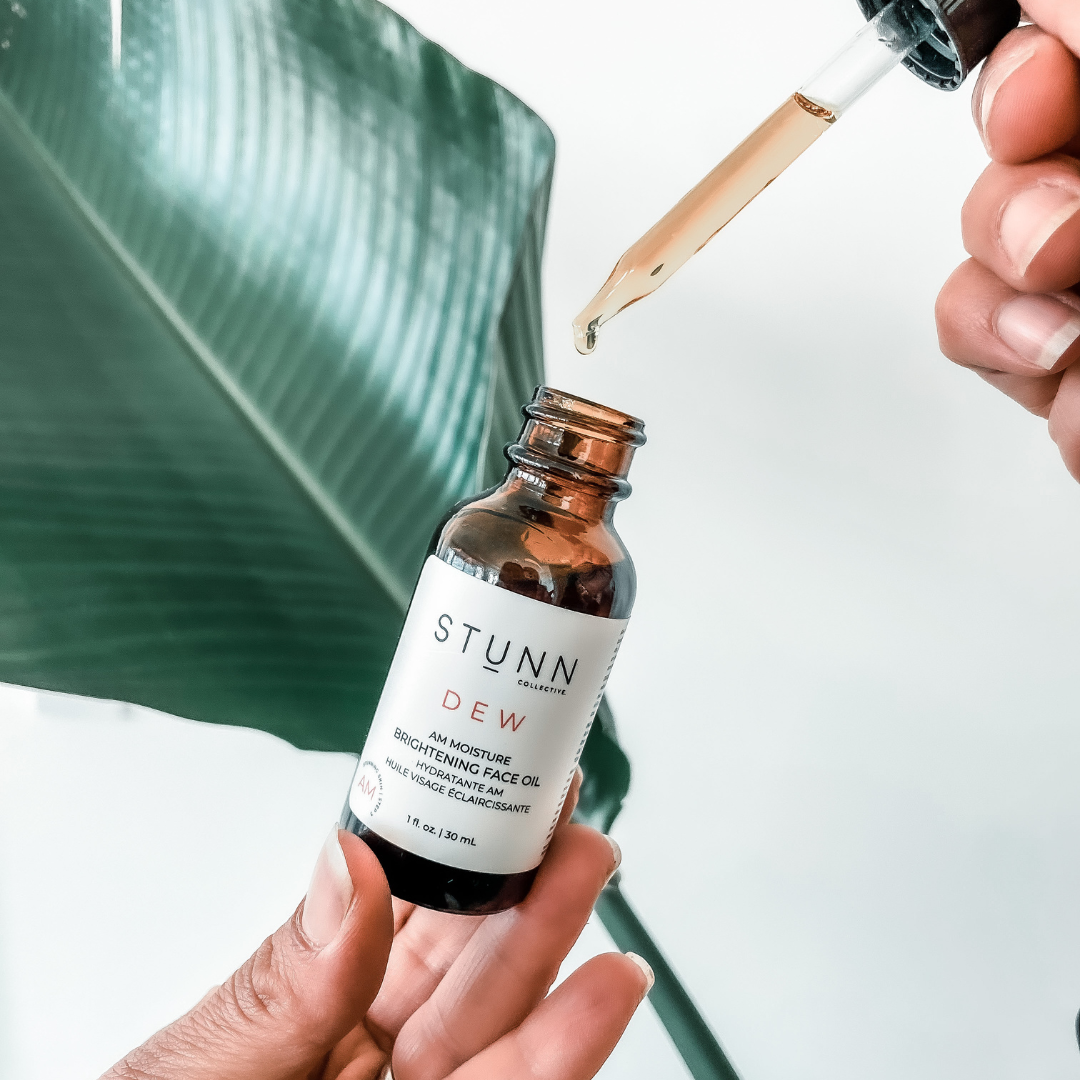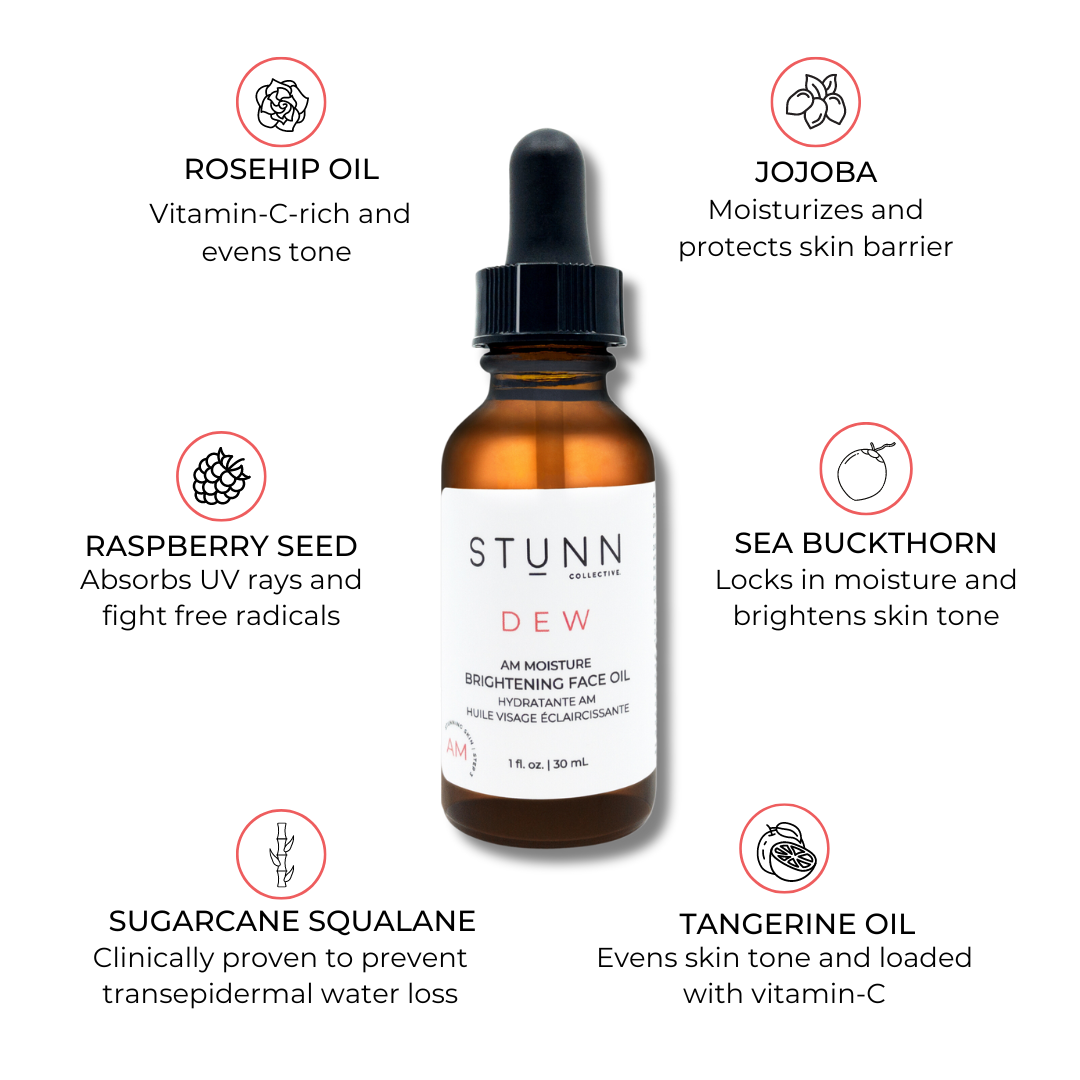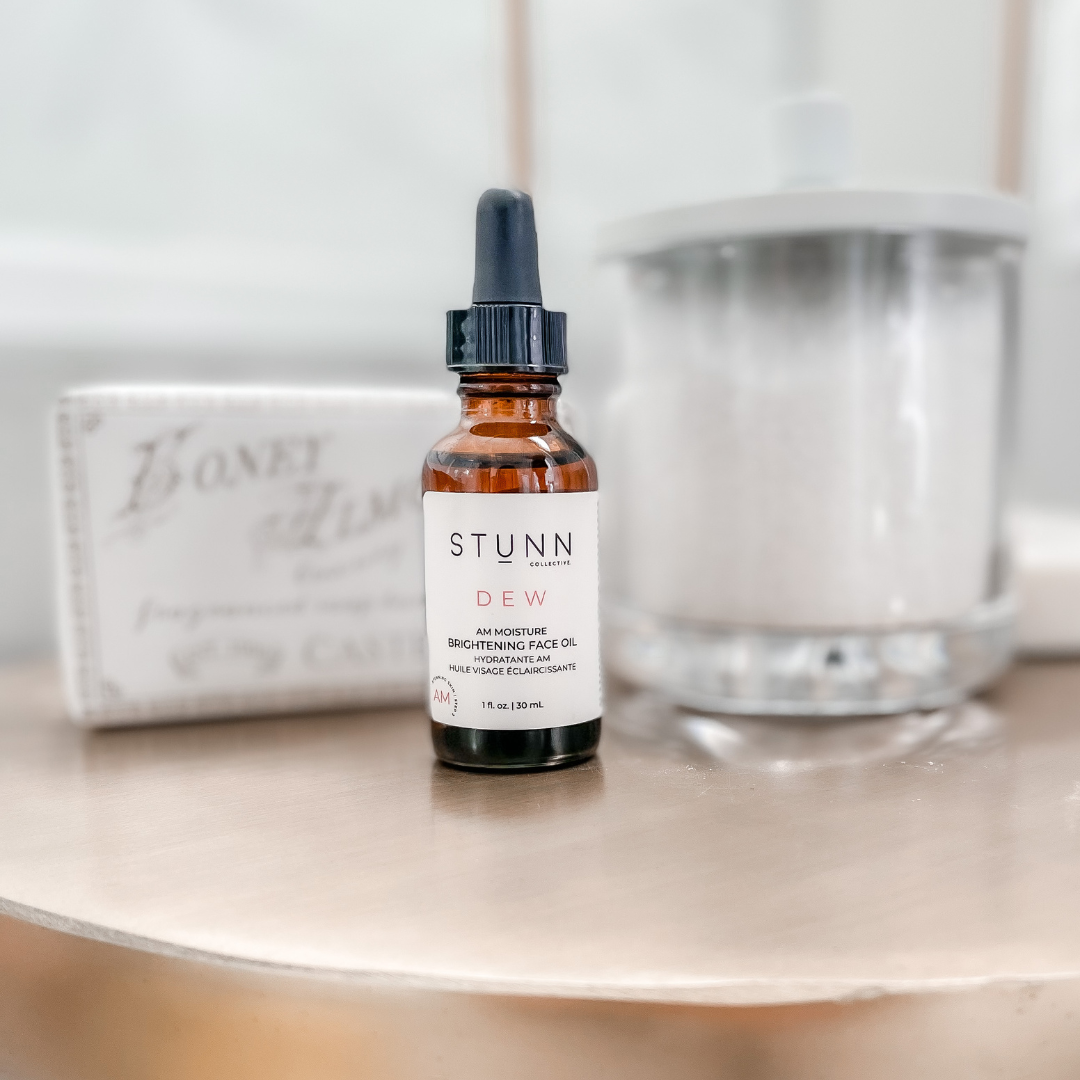 A moisturizing face oil formulated with vitamin-C rich plant-based ingredients to protect, brighten, and boost collagen, leaving skin supremely soft, dewy, and bright.
Orders for this product will be shipped Dec 4 - Dec 8.
*We will contact you directly following purchase to provide details and keep you up to date on the status.
Description
DIRECTIONS
INGREDIENTS
SKIN TYPE
BENEFITS
DETAILS
This luxe, ultra hydrating face oil was developed to provide intense moisture and brighten your skin with organic rosehip oil with high levels of vitamin C to brighten skin tone and evens out skin tone, while raspberry seed helps maintain hydration and fights free radicals.
A powerful brightening, hydration-booster, Dew, is also packed with loaded with supercharged antioxidants, phytosterols and vitamins C and E that deeply moisturize, illuminate dull, dry skin, even skin tone and help protect against environmental stressors to brighten, protect and hydrate your skin every day.
Use every morning after cleansing with Halo and treating with Gloss Clarifying Serum. Dispense 3-5 drops onto clean fingertips and smooth evenly over face and neck.
Organic Jojoba Oil
ECOCERT Sugarcane Squalane (Vegan)
Unrefined Raspberry Seed Oil
Organic Rosehip Oil
ECOCERT Sea Buckthorn Oil
ECOCERT Tocopherol (Plant derived Vitamin E)
Tangerine Oil
Organic Lemongrass Oil
This brightening face oil is suitable for all skin types.

However, it is ideal for dull, dry skin as it brightens and deeply moisturizes skin.

Patch test on the inside of your wrist to ensure skin compatibility. If you have any known allergies to any of the plant-based ingredients, avoid use. This product is not recommended for pregnant women. If you are breastfeeding, consult your doctor prior to use.
✓ Deeply hydrates and improve moisture levels
✓ Brightens and evens skin tone
✓ Improves barrier function
✓ Helps fight free radicals and absorb UV rays
✓ Moisturizing and non-greasy
✓ Lightweight and non-comedogenic
✓ 100% Plant-based
✓ Microbiome friendly
✓ Non-Comedogenic
✓ Vegan & Cruelty free
✓ No chemicals, synthetics, or water
✓ Olfactory mood-boosting properties
✓ Gluten Free & Non GMO
✓ No parabens or phthalates
✓ Made in Canada
BRIGHTENING FACE OIL
WHY IT WORKS
This supercharged luxury face oil was developed with seven vitamin-rich, plant-based ingredients loaded with antioxidants including organic rosehip oil, raspberry seed oil, and sea buckthorn with science-backed benefits to provide intense hydration, visibly brighten skin, even skin tone, aid in neutralizing free radicals and help absorb UV rays, while organic jojoba and squalane help lock in moisture, protect your skin barrier and help prevents transepidermal water loss, all day long.
BEAUTY
Brimming with vitamin's C and E, rosehip and sea buckthorn effectively brighten and moisturize your skin by evening your skin tone and illuminating dry, dull complexions.
microbiome
Ultra protective ingredients such as raspberry seed oil and sugarcane squalane work together to vastly improve your skin barrier function and nourish your skin's microbiome.
MOOD
Organic lemongrass oil and tangerine oil, while helping to fight free radicals, are also shown to boost mood and help reduce stress and mental anxiety.
THE HOLY GRAIL
TRULY CLEAN SKINCARE
This moisture-boosting dynamo instantly quenches your skin, with its vitamin-rich formulation packed full of high-powered antioxidants and fatty-acids including omega 3, 6, 7 and 9 to provide deep moisture by locking in water and effectively brightening and evening your skin tone.
Dew's phyto-nutrient and antioxidant-dense ingredients such as raspberry seed and lemongrass workover to help absorb UV rays, aid in the neutralization of free radicals, and protect against environmental stressors, while organic jojoba supports skin barrier function and creates an occlusive layer to protect your skin's moisture barrier, leaving you with ultra dewy, luminous skin all day long.
BUY NOW
ANTIOXIDANT-RICH
SUPERCHARGED INGREDIENTS
This high-powered brightening face oil deeply moisturizes with phyto-nutrient and vitamin-rich ingredients including the brightening powerhouses rosehip and sea buckthorn oil, which are overflowing with vitamin C, E, and other potent antioxidant such as alpha and beta carotene that help balance oil production and even skin tone.
Organic jojoba and squalane work overtime to lock in moisture and prevent transepidermal water loss, while raspberry seed and lemongrass to protect your skin against harmful free radicals and environmental stressors leaving you with soft, dewy, luminous skin, every day.
ORGANIC
ROSEHIP
Our organic rosehip oil is cold pressed from the seeds of the Wild Rose shrub in Chile.
It is extremely high in essential fatty acids as well as vitamin C and E, and is coveted for its ability to brighten complexion, reduce the appearance of scars and wrinkles, and improve skin color and tone.
Rosehip oil also helps to replenish the skin's moisture barrier and boost hydration, and contains molecules that are small enough to penetrate deep layers of the skin to activate on the cellular level.
UNREFINED
RASPBERRY SEED
Raspberry Seed (Rubus idaeus) oil is extracted by cold-pressing the seeds from raspberries found in South America.
This adaptogenic oil has a high concentration of antioxidants as well essential fatty acids, which help protect against environment stressors, repair tissue damage, fight free radicals, and help amplify skin's moisture, while  preventing transepidermal water loss.
This oil is rich in Vitamins A, C, and E, which promote skin cell regeneration, helping to brighten and even skin tone. Research also shows raspberry seed oil can absorb UV rays.
ECOCERT
SEA BUCKTHORN
Sea Buckthorn (Hippophae Rhamnoides) comes from the fruit of a spiny shrub native to the northern regions of Asia, and is said to be the single highest vegetal source of Vitamin C, E, and beta-carotene.
This highly sought after oil contains all four types of omega fatty acids; omega-3, 6, 7, and 9 as well as 190 bioactive compounds, which helps regulate moisture levels and overall help with hydration.
Sea buckthorn oil can also even out skin tone and fade post-inflammatory hyperpigmentation. It also protects against trans-epidermal water loss and helps skin maintain its lipid barrier.
ALL YOU WANT
NOTHING YOU DON'T
This 100% plant-based oil cleanser was formulated without chemicals, synthetics, parabens, phthalates, PEGs, sulfates, mineral oil, petrolatum, formaldehyde, preservatives, triclosan silicone, or dimethicone – in short, nothing but plants.
BUY NOW
FREQUENTLY ASKED QUESTIONS
This nourishing face oil is suitable for all skin types. 
However, it is ideal for dull, dry skin.
Patch test on the inside of your wrist to ensure skin compatibility. If you have any known allergies to any of the plant-based ingredients, avoid use.
One 1oz bottle of Dew Brightening Face Oil typically lasts 3-6 months depending on usage.
Yes. This face oil was specifically designed to be used in conjunction with Halo AM Oil Cleanser and Gloss Clarifying Serum.
It is also safe to use with other plant-based skincare products.
*If you are wanting to protect your skin microbiome and barrier, be sure to only use microbiome friendly skincare products.
Dew is best apply after cleansing, toning, and after any serums.
*It is designed to replace cream or water-based moisturizers.
This product is considered safe for pregnant and breastfeeding women, as there are no known contraindications.
However we always recommend discussing with your doctor prior to use if you have specific concerns.
Dew Brightening Face Oil was deisgned to brighten and hydrate your skin.
Additional benefits include:
- Deeply Hydrates and improve moisture levels
- Brightens and evens skin tone
- Improves skin barrier function
- Helps fight free radicals and helps absorb UV rays
- Moisturizing and non-greasy
- Lightweight and non-comedogenic
Your skin microbiome, also referred to as skin microbiota or skin flora, is an ecosystem of bacteria on the skin's surface. It's made up of trillions of microbiota which have a symbiotic relationship with the skin barrier. 
When both your microbiome and your barrier are healthy they work together to maintain your skin's pH delicate balance, protect against moisture loss, safeguard against environmental damage, and play a role in preventing premature aging.
However these critical functions can become compromised when there's an excess of foreign bacteria invading the good bacteria, or your barrier is continuously stripped from harsh skincare products and environmental factors.
The optimal way to protect your skin microbiome is to choose skincare products that work with your microbiome, rather than against it, but gently cleansing the skin without stripping your barrier or throwing off your pH.
The skin barrier, also known as the "moisture barrier" or "acid mantle," is the outermost layer of your epidermis. The skin barrier's primary function is to keep the 'good stuff' such as moisture in, and the 'bad stuff' as free radicals out.
A healthy barrier protects the body from toxins such as pollution, chemicals, and UV rays, and maintains moisture by preventing transepidermal water loss.
An unhealthy barrier is unable to perform either of those functions and leaves your skin inflamed, dehydrated, and vulnerable to free radical damage, which can result in weakened skin cells, collagen degradation, deepening lines and wrinkles, hyperpigmentation and extremely dry skin.
The key to protecting your barrier and maintaining its health is selecting a gentle and effective oil cleanser to thoroughly cleanse your skin of dirt, makeup, pollution, and other foreign bacteria, while protecting the natural ceramides and oils that coat the skin's barrier, without stripping or disrupting your skin's microbiome.
Email us at hello@stunnco.com and we will add common questions to this list as they come up.